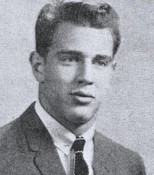 Don died at home April 26, 2007, two years after being diagnosed with stage-four kidney cancer. It is a tribute to his physical strength and mental determination that he survived so long.
Don attended high school in Pittsburgh, played varsity football, and became an Eagle Scout. At Princeton, Don lettered in football three years, playing on the undefeated 1964 team. He roomed with Cosmo Iacavazzi, John O'Brien, Roy Pizzarello, Ernie Pascarella, Rich Diamond, and Mike Michael, and was a member of Cannon. He majored in biochemistry.
After Princeton, Don earned a Ph.D. in microbiology at Penn, completed postdoctoral work at Duke, and became an assistant professor at the University of Kentucky College of Medicine. He switched to business after earning an M.B.A. from Kentucky. As CFO of BioTechnica International, he worked with classmates Marsden, Klotz, Losick, and Shank. Prior to his death, he was a real estate broker in Fredericksburg, Va.
Attendees at Don's memorial ceremony included classmates Klotz, Diamond, Iacavazzi, Roth, and Sutcliffe, and teammate Ron Grossman '67.
Don is survived by his wife of 44 years, Dorothy; children Kelly, Kathy, Don Jr., and John; and seven grandchildren. Don thoroughly enjoyed being a father and grandfather. His good-natured personality, sense of humor, kindness, and optimism made him an ideal friend.