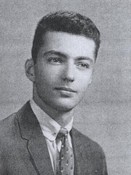 Joel (Joseph L.) Navari, I very much regret to say, passed away in a hospital near his Peoria AZ home at 12:31 p.m. April 18, 2010, less than 24 hours after he was admitted.

Here is the death notice that appeared in The Arizona Republic:

Navari, Joseph "Joel," 66, of Peoria made his transition on April 18, 2010.

He was a husband, father, brother, grandfather, educator and patriot who lived life with passion. He is survived by his wife, Tami Conaway, two sons, Jude Navari, Jason (Amy) Navari; two daughters Johanna (John) Welch, Jocelyn (Tom) Messer; a step-daughter Amy (Duane) Cowan and a step-son Chad Conaway. Also surviving are a brother, Rudy (Jane) Navari ; a sister, Elenora (Joe) Buba; nine grandchildren, Zane, Renata, Isabella, Marlee, Brooke, Cody, Ryley, Tanner and Braden.

A celebration of Joel's life (was) held Saturday, April 24, 2010, at 3 p.m. at Heritage Funeral Chapel, 6830 W. Thunderbird Road, Peoria.

The family requests, in lieu of flowers, memorial donations be made to Indiana University School of Medicine South Bend - Cancer Research, 1234 Notre Dame Avenue, South Bend, IN 46617.